See on Scoop.it – Via @VidarOceans Protecting the Oceans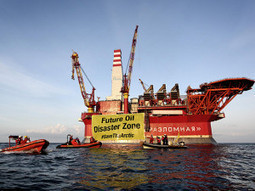 Gazprom is nominated for the Public Eye Awards for going ahead with their reckless and environmentally damaging drilling plans in the Arctic. Vote now! #PEAwards14
Gazprom's plans to extract the first Arctic oil in December 2013 have been heavily criticized due to the serious risks to the environment. Gazprom has to date refused to make its oil spill mitigation plan public.
From the available summary, it is clear that Gazprom is not prepared for the high risks which drilling under Arctic conditions entails. Nevertheless, Gazprom claims the company is committed to upholding high environmental standards and is moving ahead with its plans.
Consequences
Independent research on the potential impacts of an oil spill has revealed that Gazprom would not be able to respond to an oil spill. Such a spill would lead to serious, long-term pollution of this fragile region.
The US Geological Survey concluded that "there is no comprehensive method for cleanup of spilled oil in sea ice". It is estimated that the total area at risk is over 140,000km2 of sea and 3,000km of coastline, and that nearby wildlife reserves and critical habitats for Arctic seabirds and walrus would be heavily threatened.
See on publiceye.ch