See on Scoop.it – Vidar Oceanus Investigates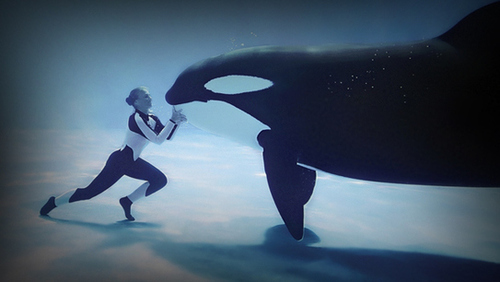 Posted on September 11, 2013 by Joey Nolfi
We're so very good at viewing.
It's in our nature. Our eyes desire motion for consumption, drawn to kinetic energy in a magnetic bond too powerful to describe. It's an ugly truth that what fascinates us is most often something elusive to our grasp. Mystery equals wonder, and wonder equals desire. As humans, it's also in our nature to actively seek out that which beckons our interest, even if it's dangerous. Killer whales, like the ones at the heart of the rousing Blackfish, fit into a dangerous mold; they are a combination of spectacle and overwhelming power we cannot–and were never meant to–control.

The recently-released documentary by Gabriela Cowperhwaite, shows us how SeaWorld parks around the country have removed an essential part of the equation of spectacle. They've made it easy for us to view these animals as nothing more than 12,000-pound toys, ripping them from their homes in the wild to display them for our sense of bewonderment. SeaWorld marketing has conditioned us to accept them as larger-than-life plush dolls living happily ever after in the dream that is by all means simply a concrete jail cell for our entertainment.

But, we live for the spectacle of their performance. To consume spectacle is to be human, and harnessing the power of spectacle inflates our egos that much more. It's not like they were modestly-sized in the first place. To assume that, as we see in the first twenty minutes of Blackfish, we are entitled so much as to pluck these beautiful creatures from their homes in the wild in the first place is a moral sin in itself. We see grown men, hardened from years of regret, crying onscreen as they recount the sounds of wild Orca wailing for their young. Regret is a testament to evil, and SeaWorld has a lot of explaining to do for their despicable actions.
See on popsmut.wordpress.com