See on Scoop.it – #Adventurewithus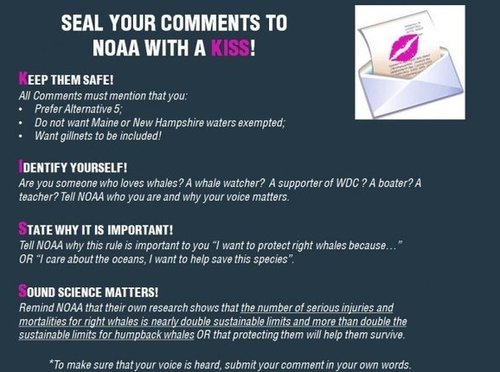 Please help reduce entanglements of right and humpback whales! Join me in letting NOAA know that we need them to protect large whales! NOAA is proposing to restrict the use of risk-prone lines that go from the lobster and crab pots to the surface buoys but they need to include more gear types and a more comprehensive marking strategy to identify the kind of gear and where it was set.
SUBMIT YOUR COMMENT TO NOAA TO TELL THE GOVERNMENT WHY REDUCING VERTICAL LINE IN THE WATER TO REDUCE ENTANGLEMENTS OF WHALES IS IMPORTANT TO YOU. PLEASE SUBMIT YOUR COMMENT BEFORE 11:59 EST ON SEPTEMBER 13TH.
See on uk.whales.org